Ideal for mixing, dosing or batch tasks in small or mobile tank sizes up to 4000kg
Robust and hygienic solution
The Alfa Laval weighing system UltraPure is a comprehensive solution for hygienic process weighing and measurement of liquid level, mix ratios, dosage or batching.
With its patented technology, making mounting kits unnecessary, quick and easy set-up is utilized, enabling a faster and more cost effective installation process. No need for mounting kits and a complete laser welded construction makes the weighing system an ideal choice where the production environment is hosed down on a daily basis.
Quick and easy set-up
the pre-callibration of the Alfa Laval Load cells elimininated the need for on-site clibraiton in many applications
Mechanical protection devices are not necessary when installing Alfa Laval digital load cells. This is not only an important cost and maintenance sac,er but also allows for a hygienic installation.
High weighing accuracy
Weighing accuracy depends largely on the selection of a top-quality load cell for your weighing system installation. Alfa Laval provides you with four standard accuracy ranges 0,1%, 0.05% and 0.025 % that cover a total measurement range from 0 to 4.000 kg.
Product Benefits
Robust and hygienic solution

Quick and easy set-up

High weighing accuracy
Tired of unreliable and unhygienic load cells?
The Alfa Laval load cells are based on a patented digital capacitive technology that features a number of advantages compared to other technologies used for measuring force and weight.
Top ten reasons for choosing the new weighing solutions from Alfa Laval
サニタリー機器カタログ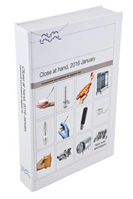 最新の「Close at hand: すぐお手元に」オンライン版
The Alfa Laval Weighing System with Compression Load Cells features patented digital capacitive technology that has a non-contact capacitive sensor mounted inside the load cell body.
Each weighing system consists of: Several load cells, including load cell modules, an electronic output module, which can be either analogue or digital and control modules for the load cells and cable. To ensure robust and reliable connection between the tank and the load cells, Alfa Laval offers an additional range of tank legs that fits to the load cells.
Factory pre-calibration does away with time-consuming onsite adjustments during commissioning. No costly, complicated mounting kits, stay rods or overload protection devices. Just precise load cell weighing and management at its best.
When a load is applied, a portion of the load is transmitted to each load cell, which sends an electrical signal proportional to the load sensed to the control module. The control module converts the signals to an accurate weight reading.
Because there is no contact between the capacitive sensor and the load cell body, the load cells are largely unaffected by overload, side loads, torsion, shocks and welding voltages. This makes straightforward mechanical load cell installation possible. A proprietary application-specific integrated circuit (ASIC) in the load cell converts, compensates and calibrates the output from the ceramic load cell weight sensor, enabling plug-and-play operation and accurate compression load cell measurement.
Part of a broad instrumentation range
Alfa Laval offers a comprehensive range of instrumentation intended for hygienic applications in the dairy, food, beverage,home care, personal care, biotechnology and pharmaceuticals.
For a broader instrumentation range, explorer the different product categories: analytical instruments, cleaning validation instruments, flow instruments, level instruments, pressure instruments and temperature instruments.