The Alfa Laval Tri-Clover® 700 Series is a range of air-operated single-seat valves that provide years of reliable performance, and have been installed for decades in various food, dairy and beverage plants across the US.
Dependable design
Alfa Laval Tri-Clover 700 Series valves feature a durable and dependable design with rugged plastic stem bushings, which eliminate metal-to-metal galling. In addition, the stem is threaded to the actuator shaft, eliminating the coupling between the stem and actuator, thereby ensuring proper alignment. Bushings at each end of the cylinder support stem also ensure perfect alignment. Finally, each valve features a heavy-duty bonnet and body ferrule design that will stand up to years of pounding from hydraulic shock.
A variety of styles and sizes
700 Series valves are available in both long and short actuators, including a wide selection of shut-off and divert valves. Sizes range from 2" (50 mm) to 4" (102 mm), in normally opened or closed positions. A 32Ra surface finish is standard, with several valve body combination options to choose from.
Helping fill your valve project gaps
Even in this era of continuous mixproof processing, 700 Series single-seat valves are the perfect valve project gap filler. Specifically, if a simple divert valve is needed, consider a 761 divert valve. Or, if a section of your process requires flow diversion, install a series of 762 Flow Diversion valves - as shown.
Benefits
Coated springs provide long life, high-holding pressures
Valve stem threads onto actuator stem, eliminating coupling
All wetted parts feature 316L stainless steel
A variety of ThinkTop automation options
Product catalog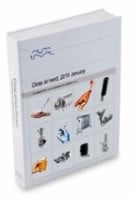 Latest USA 'Close at hand' online version
The valve is remote-controlled by means of compressed air. It has few and simple moveable parts which results in a very reliable valve.
As an air-operated seat valve, it can be configured with either a short-stroke or long-stroke actuator. The 761 valve has a flexible sanitary design, allowing it to be used in a wide range of applications - as a stop valve with two or three ports or as divert valve with three to five ports