SB Tank Pressure Regulator
The Alfa Laval SB Tank Pressure Regulator maintains and regulates top pressure on pressure tanks during filling, processing and emptying. It usually connects directly to the gas/CIP pipe leading to the tank top or is incorporated into a flow panel. The regulator can be integrated with a SCANDI BREW® tank top system.
Secure tank top pressure control
Maintaining the working pressure at the tank top is critical. The tank pressure regulator makes sure that the pressure in the vapour space of a process tank is always at the optimal setting. This ensures the safety and effectiveness of your processes and safeguards product integrity.
Modular hygienic design
All pressure regulator components are made of high-quality hygienic materials that meet stringent food and beverage processing standards. Modular design provides the flexibility to meet most installation requirements. Hygiene is assured through the use of a CIP adaptor to provide full cleanability.
Product benefits
Constant tank top pressure during filling, processing and emptying

Reliable setting of working pressure

Fully cleanable with CIP system
サニタリー機器カタログ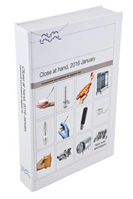 最新の「Close at hand: すぐお手元に」オンライン版
Construction
The tank pressure regulator consists of single valve unit incorporating a pressure exhaust valve, a pressure-supply valve and a connection for a pressure gauge. The pressure regulator can be supplied with a valve with different versions of the spring/regulating unit:
Fixed setting (only one pressure)
Variable setting
Pneumatic actuator
The regulator can be integrated with a SCANDI BREW® tank top system.
Operating principle
The valve unit is supplied with either with a fixed setting or a variable setting, which adjusts the relieving pressure to the required working pressure in the tank. When tank top pressure exceeds the preset pressure, the regulator releases the gas through the vent port either for atmospheric discharge or for collection. If the tank top pressure decreases, gas is supplied through the gas supply connection at the bottom.
Cleaning-in-place (CIP)
The tank pressure regulator requires cleaning between every batch. It is incorporated into the tank CIP procedure by means of the optional CIP adaptor. Before cleaning, the CIP adaptor is mounted onto the pressure regulator; it forces open the gas supply valve and pressure relief valve and enables them to be fully cleaned. During the CIP procedure, all functions are blocked. See the schematic drawing of the regulator.
Options
CIP adaptor (T-piece and 180°bend)
Pressure gauge
Protection valve for pressure gauge when CIP pressure exceeds range for pressure gauge
Mounting brackets
Force opener
Mounting bracket on reverse side of valve block