Compact and intelligent, ThinkTop® D30 is an easy-to-install integrated control unit for hygienic applications. It is a cost-effective alternative for use where space is limited and operational simplicity and reliability is important.
Durable watertight design
A Plug n' Play solution, Alfa Laval ThinkTop D30 offers a no-hassle intuitive control unit with simple functionality. For automated control of sanitary valves, it can be used in standard food, dairy and brewery installations and for general applications where non-critical valves are used.
Like the premium ThinkTop and standard ThinkTop Basic units, ThinkTop D30 offers a durable watertight design, proven safety and low total cost of ownership. This reliable control unit offers an economical alternative to conventional valve monitoring and control solutions as well as a smart, affordable alternative to panels with external solenoid valves.
The ThinkTop D30 features a digital interface, which makes it possible to enhance monitoring of air loss or leakage, and a 360-degree visual status indicator. This contributes to more stable operation of hygienic processes, enhanced product quality and more uptime.
Compact, easy-to-install valve control
Installation and commissioning is quick and easy due to few termination points. With its compact 75mm-high, 105mm-in-diameter profile, the ThinkTop D30 easily fits into most installations, and its 60mm stroke length fits most actuators. This cuts both the time and costs associated with valve control for hygienic installations as well as installation using bracket, inductive sensors and external solenoid valves.
Simply position the unit directly on top of the valve actuator, connect the air and then connect the cable to the PLC system. No special expertise, adapters or tools is required. The pre-set tolerance band eliminates the need to adjust the feedback position at regular intervals.
Reliable and hygienic valve control
The ThinkTop D30 withstands the effects of physical impact, vibration, water hammer, thermal variation and pressure shock. Because it is watertight and IP66- and IP67-compliant, the ThinkTop D30 prevents condensation and the penetration of dust, water and other particles into the control head.
The control head can therefore be hosed down with water or cleaning fluid without affecting the preconfigured settings. This contributes to maximum hygiene and effectively eliminates problems associated with corrosion and external contamination.
Watch this video and see how easy it is to install the ThinkTop D30:
Product Benefits
No-hassle intuitive control unit

C

ompact, easy-to-install valve control
Reliable and hygienic
サニタリー機器カタログ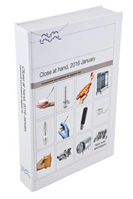 最新の「Close at hand: すぐお手元に」オンライン版
Construction
The ThinkTop D30 is a basic valve control unit that consists of a proven no-touch sensor system with 360-degree LED visual status indicator, an integrated 3/2-way solenoid valve for spring-loaded actuator, and valve control sensor board for connection to any PLC (Programming Logic Controller) system.
Operating principle
Installed directly onto the top of the valve actuator, the ThinkTop D30 is an easy-to-use valve control unit with integrated intelligence to monitor the status of the operating air pressure, identifying air loss or leakage. The integrated solenoid valve enables control of the processing valve.
The ThinkTop D30 receives signals from a PLC system to control the solenoid valve and transmits air pressure signals to the PLC system indicating whether the valve actuator is energized and de-energized or if an air pressure alarm occurs. ThinkTop D30 has a 360-degree visual status indicator, which can be seen at a distance and at any angle.
Integrated communications made easy
The ThinkTop D30 provides communications with any PLC system using two feedback signals, one air surveillance signal and one solenoid valve signal with any of the 24 VDC digital interfaces available.