簡単で使いやすいIndiTopは、乳製品、食品および飲料、およびバイオ医薬品業界で使用されるほとんどの標準的なサニタリーバルブのステータスに関する正確で信頼性の高い情報を提供します。
Accurate valve indication
For straightforward real-time monitoring, the IndiTop provides accurate visual indication of valve position and status as well as power-supply status through the use of light-emitting diodes. Its universal fit makes it a natural choice for valve indication of any Alfa Laval air-actuated sanitary valve.
With its streamlined, low-maintenance design, IndiTop is ideal for use in new and existing plants. IndiTop does not use any solenoid valves, but relies on the use of basic indication signals. Compatibility with all major PLC system having a digital PNP/NPN interface.
Valve cluster illustration caption: Combining the use of automated ThinkTop control heads and IndiTop valve position indicators provides a smart solution for cost-effective control of your plant.
Effective valve indicator
Reliable valve indication based on proven ThinkTop design contribute to process safety:
No-touch, set-and-forget sensor system.Detects both the condition and position of the valve stem with an accuracy of ± 1 mm. Set-up parameters are stored but, for greater flexibility and ease of operation, can easily be re-programmed.
Pre-set tolerance band. No manual adjustment of feedback sensors is required. Valve tolerance bands with preconfigured default setting of ±5mm ensure operational reliability on any Alfa Laval sanitary valve.
Two PNP/NPN feedback signals offer basic functionality to indicate energized and de-energized main valve positions. The PNP/NPN interface are selected by connecting one appointed wire to either the plus or minus terminal.
Sturdy and durable
With its hardy hygienic design, IndiTop ensures the effects of physical impact, pollution, frost, UV radiation and temperatures up to 80°C while supporting continuous production.
Completely watertight and IP66/IP67-compliant, IndiTop prevents water condensation and the penetration of dust, water and other particles into the unit. The unit can be hosed down with water or cleaning fluid without putting important settings at risk. This contributes to maximum hygiene and effectively eliminates problems associated with corrosion and external contamination.
Product Benefits
Streamlined, low-maintenance design

Sturdy and durable

Cost-effective control
サニタリー機器カタログ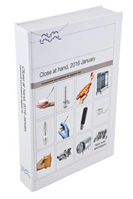 最新の「Close at hand: すぐお手元に」オンライン版
Construction
IndiTop consists of a valve indication housing, proven no-touch, set-and-forget sensor system with light-emitting diodes (LEDs) and valve control sensor board for connection to the PLC (Programming Logic Controller) system.
Operating principle
The sensor system calculates the angle between the axial magnetic field produced by an indication pin mounted on the valve stem. This provides indication with an accuracy of ± 1mm of the position of the valve at any given time through the use of microchip sensors.
The IndiTop unit transmits status and condition to any PLC system using one of two DC/AC or PNP/NPN digital feedback signals. LEDs display the current main valve position and on/off power status at all times.
Options
Three versions based on fixed cable lengths are available for connection: 5 m, 10 m or 0.5 m with an M12, 5-pin stainless steel plug connector including the plug counterpart.
Ease of installation
Installation is straightforward; no special expertise, adapters or tools are required. IndiTop fits onto all Alfa Laval sanitary actuators equipped with mushrooms. Simply press a five-button startup sequence to initiate foolproof manual setup. Or facilitate setup using the optional remote control wire function in combination with the PLC system. No dismantling is required.